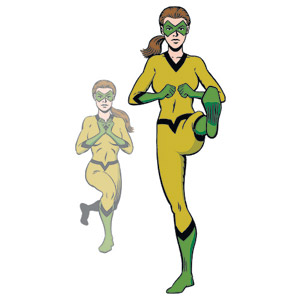 Cameron Diaz got into what her trainer, Teddy Moss, called "superhero shape". This was for her role of Lenore Case, a very fit secretary in the 2011 movie, the Green Hornet.
This workout is called the Jumping Kick.
– Put your fists in front of your chest and stand with your feet hip-width apart.
– Jump two to three feet to the right coming down on your right leg and looking like your curtsying with your left leg crossed behind you.
– Return to a standing position by kicking the left leg in front of you.
– Tap the left foot down and jump to left, landing on left leg with right leg crossed behind as if curtsying.
– Kick with right leg, then tap it down for one complete rep.
– Do twenty reps.
FitEngine is your premier provider of inside information on the fitness industry and workout classes in NYC.
 (Pic from Fitness Magazine)