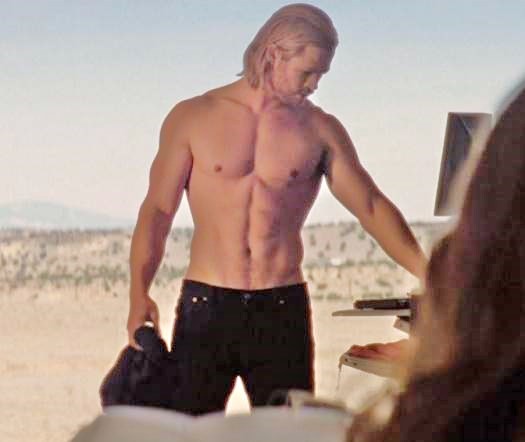 When you're playing a God (in the movie Thor- The Dark World opening in November), you might want to try and look like how a movie-going audience might perceive a God to look. Chris Hemsworth, the 6'4", 30-year old Australian is trying to do just that by gaining 20 pounds of muscle!
He got on a regimen of rigorous weight lifting workouts (7 days per week, alternating body parts on different days) and by eating either a high-carb, low-protein or a high-carb, high-protein diet.  He also consumes a lot of chicken.
Chris does it admit it's tough to forego pizza, hamburgers and chocolate but those foods have little or no place when you want to look like Chris does in his movies.
The point is that whether you want to lose or gain weight the right way,it takes a lot of work and discipline.
FitEngine is your premier provider of inside information on the fitness industry and workout classes in NYC.
(Pics from examiner.com)