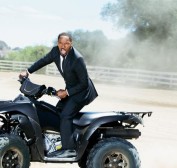 According to Men's Fitness magazine, the Oscar-winning actor, singer and comedian, Jamie Foxx, loves to play basketball. This has resulted in his trainer incorporating basketball drills into his workout routines twice weekly.
Designed to increase stamina, speed and agility, try these three workouts:
See if you can run from sideline to sideline 17 times (repeat as you are able)
See if you can run from baseline to baseline 10 times (repeat as you are able)
Run from the baseline to the free-throw line closest to you, then back to the baseline. Run to half-court and back. Run to the far free-throw line and back. Finally, run to the opposite baseline and back (rest, then repeat, if possible).
(Photo from Men's Fitness) 
FitEngine is the premier provider of information of workout classes in NYC.