Follow us on Twitter @fitengine
Join our Facebook Fan Pag
CLASS LEVEL: OPEN BARWORKS
Class Fees: YogaWorks studio is membership based. You can select from different types of membership levels including "drop in" and "nationwide". Be prepare to create a profile. You will not know the price of your membership until you provide your contact information.
Date/Time: Barworks is taught daily at different times. Click here for schedule
INSTRUCTOR: Heather Seagraves
FE Reporter: Djuna Passman
CLASS BEST SUITED FOR: former and current dancers and athletes, fitness enthusiasts-intermediate and above
CLASS BEST TAKEN FOR: Total body toning, flexibility.
This is not a class for an absolute beginner as the exercises were not broken down past an initial explanation and it was fairly intense. There was a lot of total body toning, much like a Pilates mat class, where the core remains fully engaged and active even when the focal point is on the arms, legs, or back. If you are looking to build or maintain long, lean muscle from head to toe, this is the perfect class for that.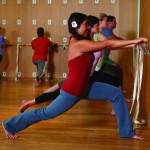 My description of class: I was expecting the class to be a cross between a ballet barre, Pilates class, and yoga class, but that is not quite what it was. Nothing in this class was new or exciting for anyone who has taken even a handful of yoga, Pilates, or exercise classes. I was expecting to use the barre for the majority of class, but we only used it briefly for one exercise. The class resembled more of an intermediate/advanced level Pilates mat class. There was a nice balance of toning and stretching. While my muscles definitely felt pushed to the max during most exercises every muscle that was worked was equally stretched, which meant no bulky muscle building and less soreness the next day. My arms, legs, core, and back all felt equally worked in this class.
Be prepared to retrieve and set up all of your props, including the barre that hangs on the wall. Initially was a little intimidated by the regulars who all looked very fit and seemed to know exactly what they were doing with the props. However, when I asked about what props I needed and how to hang the barre they were friendly and willing to assist me.
Class demographics: The class consisted of 12 females (there were very few men at this studio in general while I was there) and everyone was clearly in very good shape.
Heather, the instructor was knowledgeable and personable. She offered lots of verbal corrections throughout class. While she definitely focused on assisting her regular students she gave attention to everyone in class at one point or another. She did a number of the harder exercises with us while offering verbal corrections throughout. I personally find having the teacher do some of the exercises with the class gives me extra incentive to really push through the hard parts, but I know many people prefer hands on attention throughout class.
What are the benefits of this class?: This is a great class if you are looking for an overall toning class. Provided you have some knowledge of how to modify exercises, i.e., you are a current or former dancer or athlete or have a strong yoga or Pilates practice, this would be a great class while recovering from an injury as there was plenty of space for individual modifications as needed. The next day I was just sore enough to know I had gotten a good whole body workout, but not to the point where I felt like I needed to take the next day off from any sort of strength training. I got the sense that this class is different each time and varies from teacher to teacher as well.
Address: YogaWorks 495 Broadway (off Grand St. in Soho) NYC 10013 (212) 965-0801
Class description: Leave your ballet shoes at home, but get the same effect workout as a dancer in this engaging class.  With the support of a ballet bar, increase balance, core strength and flexibility using simple and precise moves.  BarWorks® combines the best of yoga, ballet, and Pilates using specific alignment principles from the YogaWorks method. Alternating movement and stretching, you will use your own body weight as a natural tool. Build the elegant, lean muscles any ABT dancer would be jealous of.