CLASS LEVEL: INTERMEDIATE/ADVANCED – Xpress Spin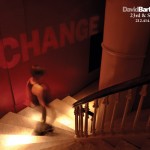 The Xtreme Spin class offered at David Barton Gym is a definite intermediate class.  The thing I love most about working out is the playlists that I create to pump me up at certain points when I know I'm going to be in need of a song that I love to keep me pushing the limits.  Chris our spin instructor played awesome hits that kept me on my toes and keeping my mind off of the exhaustion in my legs and butt. 
Chris has experience in marathons and triathlons, so when we are riding the bike, he paints a picture of where we would be riding if we were in the New York City marathon.  He also kept us on our toes by mixing up the ride with jumps, extremely slow movements that only isolated our legs, sprint intervals and of course rest intervals.  A point that I loved about his style of teaching was that he got up off his bike and was orchestrating us to do intervals as if he was the conductor and we were his choir. The energy he gave off was the energy that made me want to push myself for that last fifteen seconds of the sprint or that last jump. That's really important to me in a teacher because it shows that they want you to reciprocate what they are giving to you, which in the end benefits the student.
Would you recommend:  I would recommend this spin class if you want to leave drenched in sweat and feeling fresh and ready to rock your next task. This class is a fantastic overall work out. Your entire body will feel 'worked" after this class
Benefits: endurance training, lots of leg, quad and hamstring work, works butt and calves. This class will make you sweat and you will burn tons of calories and sweat off yesterdays lunch and dinner.
Class description: Xpress Cycle: An intense 45 minute cardiovascular workout on a stationary bike, based on cycling principles. Classes are technique based with a focus on cadence, heart-rate zones, climbs & sprints that are fun and challenging and designed to leave you drenched with sweat. Address: 215 W. 23rd St. NYC, NY 100100. Phone: (212) 414-2022
Follow us on Twitter @fitengine