Follow us on Twitter @fitengine
Join our Facebook Fan Page
CLASS LEVEL: OPEN SCULPTWORKS
Class Fees: YogaWorks studio is membership based. You can select from different types of membership levels including "drop in" and "nationwide". Be prepare to create a profile. You will not know the price of your membership until you provide your contact information.
Date/Time: SculptWorks is taught daily at different times. Click here for schedule
INSTRUCTOR: Keisa Parrish
FE Reporter: Djuna Passman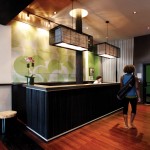 CLASS BEST SUITED FOR: Everyone
CLASS BEST TAKEN FOR: Total body toning and stretching, mild-medium cardio
I was not sure what to expect from this class and was a little taken aback when I walked into the room 15 minutes early to find a very full room that only became more packed as it got closer to the start of class.
I was told all of the SculptWorks classes are packed. Keisa, the instructor, was great about making sure everyone had enough space so I never felt like I was going to run into any of my neighbors.
Class demographics: The class was a nice mix of ages and fitness levels; there were however, only two males in this class. While not a great class for absolute beginners, there were definitely people from beginning through advanced levels of fitness. Everyone I interacted with in the class was friendly and warm, the regulars were more than happy to help the newcomers throughout the class.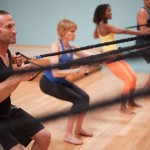 My description of class: This class is intense and in all likelihood you will be sore the next day. Cardio, toning, and stretching were all included in this one hour class. The teacher was upbeat, played great music, and attentive to verbally and physically helping students reach their maximum level of workout, safely. Class moved very quickly from one exercise to the next, but each exercise was clearly explained. Multiple props were utilized throughout class. There were weighted springs that hooked onto the wall, much like a TRX class, that were used for arm and leg toning and stretching. There were round disks called, sliding boards that were used for leg and core work. The balls of the feet were placed on these disks that easily slid on the hardwood floor offering resistance while doing lunges and abdominal work from a plank position. Yoga blocks and small balls were used to keep the inner thighs and arms active during exercises that were not primarily focusing on those areas.
What are the benefits of this class?: If you are looking to be challenged and really pushed to your max this is a great class. There were three different levels of springs so you have the ability to choose how intensely you want to work. There was clear instruction and great energy from the teacher and regular students. The mix of toning, cardio, and stretching felt just right for my body. This is a great all-in-one class for days when you don't have time to get cardio in and go to a class. Just be prepared to work. The teacher had an eye for students trying to cheat during exercises and while supportive and good-natured about it did not let anyone slack in this class.
Address: YogaWorks 495 Broadway (off Grand St. in Soho) NYC 10013 (212) 965-0801
 Class description: You'll recognize familiar sculpting exercises such as squats, lunges and bicep curls in this class, but we have a few tricks thrown in to keep you on your toes. Using a "Great Yoga Wall" equipped with stretch bands to create resistance you'll build, lengthen and stretch muscles creating a beautiful, agile body.  SculptWorks® is a thorough workout that can help you build the strength you need to advance in your yoga practice. 
This is a great choice if you want to firm and tone head to toe.  Best for students who are already physically active.