Follow us on Twitter @fitengine
Join our Facebook Fan Page
CLASS LEVEL: VINYASA YOGA (OPEN)
Class Fees: $20 drop-in, $45 for 30 days (new students at Brooklyn & Manhattan only). Class card and membership information available online: http://yoga-people.com/rates.php
Date/Time: Donnalynn teaches multiple times during the week. Check out her teaching schedule: http://yoga-people.com/classes.php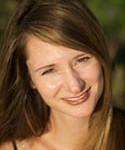 INSTRUCTOR: Donnalynn Civello
FE Reporter: Djuna Passman
CLASS BEST SUITED FOR: Experienced yoga students
CLASS BEST TAKEN FOR: Total body strengthening and flexibility
Overview: This is an intermediate/advanced vinyasa yoga class. The focus was on opening the chest, shoulders, and hips, which often become very tight in winter and can house a large amount of emotional tension.  
What was class like? Yoga People is a small studio with very little pretension. It is a wonderful space to delve into your practice and to escape the hustle and bustle of everyday life in New York City. The studio overlooks the rooftop of a church across the street, offering beautiful views of stained glass windows and an ornate roof. I highly recommend arriving early, as space is limited. Even with the small space and good amount of students, class did not feel cramped and everyone was open and friendly with one another. While not a hot yoga studio, the space does get quite warm which is nice on cold winter days.
Class was composed of a mix of men and women ranging in ages from 20s to 50s. The class was well-constructed and had a nice flow. A playlist comprised of contemporary, classical, and more typical yoga music nicely complimented the class. I felt sufficiently warmed and ready to delve into deeper poses that came toward the middle and latter portions of class. There was a lot of binding and deep rotating as class progressed.
The instructor, Donnalynn, was very clear and articulate in all of her instructions and alignment-based comments and corrections. She was compassionate, playful, and created space for each individual to challenge him or herself in safe ways. Donnalynn encouraged each individual to truly listen to his or her body and to practice in a way that was authentic to each person. She utilized both verbal corrections and hands-on adjustments. Donnalynn incorporated aromatherapy at the start and close of class. The scents she used during savasana (the closing pose of every yoga class) aided in relaxation as well as returning to a more conscious state of being. Her little massages during savasana were also divine.
Note:Donnalynn made sure to ask if anyone had allergies and told the class which scents would be used, so there is no reason to shy away from this class if you have allergies or are sensitive to particular fragrances.
What are the benefits of this class? After class I felt grounded and calmly energized. Donnalynn has a clear passion for yoga and teaching, which came through in her presence during class. This was uplifting and helped to make my experience positive. If you have a strong yoga practice and are looking to deepen or enrich your practice in a safe and creative way, this is a wonderful class to try. I was able to really delve into my practice while working on proper alignment and deepening into more advanced poses.
Address: Yoga People, 160 Montague Street, 2nd floor, Brooklyn, NY 11201 
Phone: 718-522-9642
Class description: For students with at least three months of consistent yoga practice. Vinyasa Yoga means "movement linked with breath" and the class moves at a brisk pace. Students will be introduced to more advanced poses: deeper backbends, arm balances and challenging inversions. You will build strength and stamina, increase flexibility, improve balance & posture and sweat!