Follow us on Twitter @fitengine
Join our Facebook Fan Page
Zumba by Alyson
CLASS LEVEL: Open Level Zumba
Class Fees: $20 Single Class, $60 4-Class Monthly Card, $75 Unlimited Monthly Class Card. Reservations are required.
Date/Time: Tuesdays & Wednesdays 7:00-8:00pm, Saturday 10:30-11:30am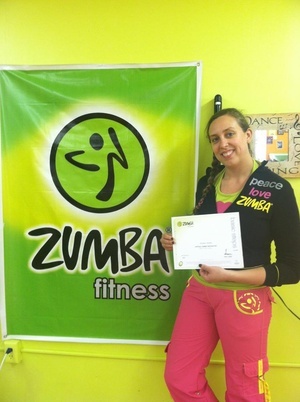 INSTRUCTOR: Alyson Sousa
FitEngine Reporter: Ashleigh Gurtler
CLASS BEST SUITED FOR: All level dancers, and fitness enthusiasts
CLASS BEST TAKEN FOR: Cardio
Overview: A fun approach to the usual dance aerobics class that uses Latin-inspired, easy-to-follow movement to get your heart pumping, your hips shaking, and makes you forget you're exercising. This class is great for those who are bored with their usual cardio routine, and for anyone interested in Latin-style dances.
What was class like? Class was held downstairs in the gym yoga room in an apartment building called Yorkshire Towers on the Upper East Side. Upon entering the space, I was greeted warmly by one of the gym managers and directed toward the class. I was the first one to show up so I had a moment to stretch and take in the space, which was small but well-lit, clean, and comfortable. Alyson, the instructor, arrived a few minutes later and introduced herself. I told her I had never taken Zumba before and she assured me that I was in a very safe and judgment-free zone where everyone was just there to have a good time. Her warm and bubbly personality reinforced that statement and I felt energized and ready to get moving!
Two other ladies joined us for class, both of whom take her class regularly. It was great to see Alyson's rapport with each student; she had clearly taken the time to get to know them and seemed genuinely happy they were there. She introduced me as a new student and the ladies told me not to worry, reassuring me that I would have a good time. Alyson started the class by explaining a little bit about the Zumba philosophy, which is essentially to have a dance party while also burning calories, and that we would learn a little bit of many different Latin dance styles throughout the class. We started warming up with some simple and familiar aerobics movements like marching, squats, grapevines, knee-ups, punches, and lunges all done to various fun and upbeat music (some of which were hits I fondly remember from the 90's, so that was an extra bonus). After three or four warm up songs, it was time to get into the official Zumba workout. Each new song meant a new Latin style; Bachata, Salsa, Merengue, and sometimes a combination of them all. Each style had a different tempo and flavor which kept things interesting, plus, the songs played continuously so each dance flowed seamlessly into the next, keeping you moving the whole time. More squatting and jumping movements were snuck in occasionally, as well as more vigorous arm work, which upped the intensity.
Alyson led the class with a smile on her face the whole time and continued to remind us by showing us how much fun she was having herself, that we were there to party. Every time we were required to move our hips, which was pretty often, she told us it was not a regular Saturday, but it was "sexy Saturday", which helped us all loosen up and have more fun with some of the spicier movements. She gave clear instructions without breaking up the flow of class and I never felt lost or confused. Even though it was clear that the other ladies knew most of the routines, Alyson made sure to add in different variations to keep it interesting for them. Some of the movements were challenging at first because they were unfamiliar, but after a few songs, I felt like I had gotten the hang of it and started to enjoy it more. Everyone in class stayed upbeat and energetic throughout, mostly thanks to the example Alyson set along with her encouraging words, and it did feel like a dance party you would have with your friends.
We ended class with a cool down and a stretch as we vowed to keep the idea of having a "sexy Saturday" alive throughout the day. I have to say I did feel a little sexier after I left! I felt I had gotten a good workout while having a good time trying something new.
What are the benefits of this class? This class is well suited for those who are looking to mix up their usual cardio routine, especially if they often attend other dance-fitness classes. The energy level was high throughout class but I never felt overwhelmed or worn out, the pacing and sequencing were just right. Alyson's high energy and positive reinforcements helped keep the class fun and engaging. I forgot I was taking an exercise class and instead felt as I do when I dance freely around my living room. I recommend you try out Alyson's class, especially on "Sexy Saturdays", if you are interested in trying new dance styles.
Address: Yorkshire Towers Fitness, 315 E. 86th Street (between 1st and 2nd Aves), Basement Level, New York, NY, 10128
Email: alyson.campbell@gmail.com

Class description: I'm Alyson and my life's journey has led me to Zumba because I want to empower everyone through dance and fitness. Why do I love teaching Zumba?  The reason is simple: Every class feels like a party and you can also burn loads of calories! Come join me and you'll see what I mean. What I love is that you don't even have to know how to dance. Just move your body and follow my lead. It's easy! Come try it, I guarantee you will have a blast! I look forward to meeting you!