Are you working out for the wrong reasons? If you're working out strictly to lose weight, you might be. Research from the University of Michigan suggests that working out to drop those pounds is one of the least successful ways of getting into shape.
According to Brynn Jinner, founder of the Refine Method, you cannot out-exercise your diet. Studies have shown that increased daily exercise by itself, at best, generates moderate weight loss. A reason may be that when you work out, you tend to eat more.
However, regular exercise has many benefits including improving mental health, decreasing stress and generally making those who do it feel better.
FitEngine is your premier provider of inside information on the fitness industry and workout classes in NYC.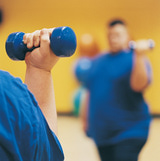 (Pic from Digital Vision/Getty Images)