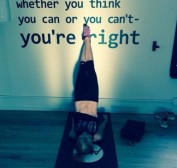 Wearing candy cane colored socks, Kelly Ripa recently tweeted a photo of her rock hard abs. The talk show host has been training with Anna Kaiser of KPT in Motion for the past three years.
During that time, Kelly has been working out 4 to 5 days a week doing 90 minute sessions. Her mental state is perfect for attaining the body she wants. She doesn't expect instant results and stays committed about her fitness. (Pics from shape.com)
Anna set up a comprehensive program for Kelly that combines strength, cardio and flexibility training. Each day she works out, Kelly does cardio and flexibility. Two days a week she does high reps, low weight and switches to low weight, high reps for the other two days. She also selects different parts of her body to focus on.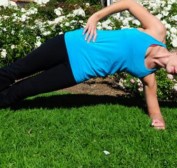 For her abs, Anna says that doing a bunch of crunches will not result in the sculpted abs Kelly has. Anna believes in working the core with the idea that the abs are there to support the spine. This is executed with plank exercises such as the side plank which is done like this (from shape.com).
Lie on your left side with your knees straight.
Prop your body up on your left elbow and forearm, feet stacked.
Raise your hips until your body forms a straight line from your ankles to your shoulders.
Hold this position for 30 seconds (or longer if you can), bracing your abs and breathing deeply for the duration of the exercise.
You can see more of these at http://www.shape.com/fitness/workouts/abs-workout-secret-formula-flat-stomach/slide/4
Regarding diet, Kelly eats what she wants throughout the day but in moderation.
FitEngine provides fitness and information about workout classes in NYC.