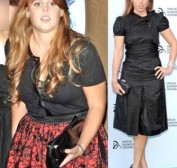 Princess Beatrice of York (real name: Beatrice Elizabeth Mary) is the 26-year old elder daughter of Prince Andrew, Duke of York, and Sarah, Duchess of York. She is sixth (and the first female) in the line of succession to the thrones of the sixteen Commonwealth realms.
In 2008, the Princess endured cruel barbs aimed at her girth when an unflattering photo of her clad in a bikini became public.  Reconciled to the fact that she would never get out of the media spotlight, the Princess decided to work with personal trainer, Nadya Fairweather, to lose some lbs and begin eating right.
Her sessions consist of working with medicine balls, grabbing hand weights while doing cardio sessions and using a TRX machine. The TRX system is a pulley-style device that gets attached to a doorframe and is supposed to build strength using the users own body weight in the workout. This has helped the Princess build lean muscle while burning fat and losing 30 pounds.
She also has gone to a vegetarian diet to help her with her dramatic weight loss. She focuses on nutrient-dense foods like fruit and vegetables. Her program is revealed in more detail in her book- Win the Weight Game. The Princess is said to embrace her curvy shape.
Learn more at http://www.examiner.com/article/princess-beatrice-s-trainer-reveals-her-weight-loss-and-workout-secrets
(Pic from McCormack, Kitson/Getty Images on Examiner.com)
FitEngine is the premiere provider for fitness information and workout classes in NYC.