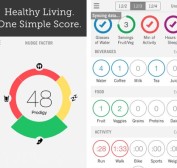 If you been at all in tune with the fitness apps currently available, you know that it's easy to get overwhelmed by them. Keep track of your fitness for a while and you could have multiple apps tracking your weight, running habits, cycling, heart rate, etc.
The app, Nudge, wants to put an end to all of this mayhem. Instead of having to use all of those apps, Nudges gathers your data from existing fitness apps. This means you only have to track one app and that's it.
When you first start Nudge, you will be required to create an account or use your Facebook info to log in. Once you're in, you can set up Nudge to sync with Runkeeper, MapMyFitness and Moves as well as others. Plus, there are more on the way.
In addition to the convenient synching, manual controls are set up on Nudge so you can enter your fitness and diet data directly into the app if you want to. The detail isn't that great but the app makes up for it by allowing you to develop a label for your energy level and log in no-no's like alcohol and cigarettes.
As you load in data, the app will create a Nudge factor for you which is meant to track your overall fitness. 110 is the magic number to reach!
There is also a social component to this app which is free on both the iPhone and iPad.
Find out more at www.tuaw.com.
(Pic from tuaw.com)
FitEngine is the premier provider of fitness information and workouts in NYC.