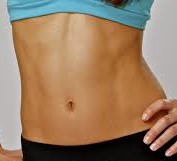 Is it possible? Is this real? Yes it is. Believe it. Exhaling the right way can give you tighter and flatter Abs.
Deliberate, controlled breathing is essential to Pilates and tighter Abs.
In Pilates timing and duration of both inhalation and exhalation is central to the proper execution of movements. And, coordination of the two physical actions (breathing and moving) provides maximum support to the Abs and power to perform the action by ensuring a steady supply of oxygen to brain and body.
Pilates relies on specific ways of breathing
Very often individuals are inclined to hold their breath while performing movements that require concentration and physical effort. In Pilates, one needs a constant supply of oxygenated blood.
"Diaphragmatic Breathing," where the stomach area swells during inhalation, is the healthiest form of "regular" breathing. Its one drawback is that it interferes with the tightening of the core. A tight core provides strength and safety.
Pilates employs a technique called "Lateral Breathing." Lateral breathing uses the sides, back and lower lobes of the lungs to collect and distribute oxygen. Sustaining lateral breathing during workouts keeps your abs tight, flat and engaged. No poof-belly. Ever.
Here is how to perform Lateral breathing: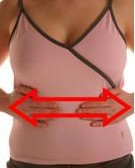 Inhale deeply through the nose and exhale fully through the mouth.
As you inhale through the nose, imagine the ribcage expanding out to the sides like an accordion.
As you exhale through the mouth, imagine the ribcage drawing inward and towards the hips.
Exhale steadily through lightly pursed lips. Remember: control!
The Lateral Breathing and Abs connection?
Exhalation raises the diaphragm and ribs.
Allows the abdominal muscles to contract and avoids having to struggle against a bulging core.
When the abdominal muscles are properly engaged, they provide support for the lower spine by acting like a supportive corset for the trunk.
Lateral breathing results in:
Energy to move correctly, maintain proper alignment and move smoothly between exercises.
The ability to contract and relax muscles that control breathing in a controlled, coordinated manner.
An increase in the stamina necessary for completion of vigorous movements.
A clear focus.
Tight and pulled-in Abs.
You can do this right now:
Practice breathing in front of a mirror so you can see the ribcage expanding on the inhale and inward on the exhale. Feel the contraction and expansion and work the Abs.
Try this exercise to help feel lateral expansion of the ribcage while inhaling
Wrap your hands around your ribcage.
Inhale and exhale using Lateral breathing.
Imagine the breath travelling down your spine and expanding your back and sides on the inhale. Then exhale closing the ribs, tightening the Abs. Think — corset or wide torso belt getting tighter.
Written by: Judy Dellaquila, Certified Pilates Instructor, Contributor to FitEngine.com. To Schedule a pilates session with Judy or any of our Pilates instructors click here.
---
FitEngine Fitness In-home Privates
Certified Pilates, Yoga, Fitness, and Assisted Thai Yoga instructors.
 (Yeah, that's right. We come to you.)
BOOK APPOINTMENT
Privates $65 (Limited time offer)
---