Toned triceps can help you round out your arms, making them look that much more incredible! In today's Guide to Your Muscles, we'll look at the anatomy of this important muscle group, and learn about some great ways to get it in shape.
Anatomy & Function
The triceps, or triceps brachii, is a muscle group located at the back of your upper arm. It has three "heads", or points of origin. The long head of the triceps is attached to a depression in your shoulder blade (scapula) that forms the shoulder joint with your upper arm bone (humerus).
The lateral head of your triceps is attached to the upper back of the humerus itself. Finally, the medial head is attached to the middle and rear surfaces of the humerus.
All three of these heads merge, and are attached at the elbow to your ulna, one of the bones of your forearm.
The main function of your triceps is to extend your forearms when it contracts. The triceps thus work together with the biceps, responsible for flexing, to give you control of your forearms.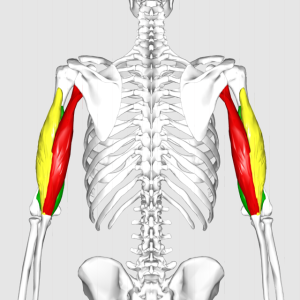 Exercises—Weight-Lifting:
There are a variety of triceps extension exercises with weights you might want to try.
For the lunge-style triceps extension, first stand in a lunge position, one leg forward and bent at the knee.
Grip the weight in the hand opposite of your forward leg, lean over your bent knee, and extend the weight behind you. Lift it about an inch, and do many repetitions. This form is excellent for toning the backs of the shoulders as well as the triceps.
For a more classic form with two hands, stand straight and hold your dumbbell behind your head with both hands. Your upper arms should be pointing straight up, and your elbows bent at about a 90-degree angle.
Now, keeping your upper arms stable, raise the dumbbell, moving only your forearms. Pause, lower it back, and repeat.
Exercises—Bodyweight:
The triceps also respond very well to bodyweight exercises.
Diamond pushups are excellent for the triceps. Do pushups with your hands forming a diamond shape on the ground, keeping abs, glutes, and thigh muscles tight.
Another good triceps exercise is the one-arm press. Lie on the floor on one side, say the left, and bend your knees slightly. Now, grab your right shoulder with your left arm, press your right palm against the floor, and lift with your right arm.
Dips are a must for your triceps. If you have a dip bar, this exercise starts with mounting it, pushing yourself upward until your arms are straight and feet off the floor. Now, lower yourself down until your elbows are bent at about a ninety-degree angle.
Without a dip bar, you can do this exercise by raising and lowering yourself from a secured bench or other object behind you.
In the starting position, raise yourself up from your bench, keeping your legs extended. Lower yourself with your elbows until they reach that ninety-degree angle, and then repeat.
Whether you favor weight-lifting or bodyweight exercises, stay safe and keep up the good work on your triceps!