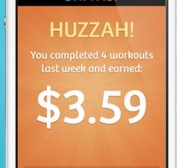 Gympact has an interesting spin on workout apps. It asks you make a commitment to get to the gym. You input how many days a week you want to exercise (minimum 1 day per week) and set the monetary stakes you'll pay if you don't go (minimum $5 per missed day).
You receive money when you successfully complete a 30 minute workout. It's not much, $0.30 to $0.50 per workout, but we are unaware of too many ways to get paid for working out. Once you hit $10 you can transfer the money from PayPal.
You can change your workout habits each week and it only counts one 30 minute workout per day.
Gympact also syncs with other fitness apps like MapMyFitness and Runkeeper.
Learn more at http://gym-pact.com/. (Pic from gym-pact.com)
FitEngine provides the best insider information on workouts in NYC.