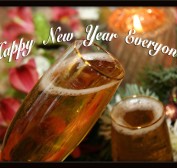 Auld Lang Syne
Pretty much everyone knows this tune having heard or even sung it during some New Year's Eve celebration at one time or another. In the original Scottish dialect auld lang syne means- "old long since; long, long ago; days gone by or old times". The tune is a traditional Scottish folk song and the words are from a poem written by Robert Burns in 1788.
The message of the song is to toast to past times with good friends. Usually only the chorus and the first verse are heard. However, it's the last verse, seldom sung, that truly captures this meaning:
Take my hand, my trusty friends,
And give me your hand too,
Let's drink to yesterday, my friends
to auld lang syne.
Quotes about the New Year
Cheers to a new year and another chance for us to get it right. Oprah Winfrey
New Year's Day is every man's birthday.  Charles Lamb
An optimist stays up until midnight to see the New Year in.  A pessimist stays up to make sure the old year leaves." Bill Vaughan (American Author)
New Year's Eve is like every other night; there is no pause in the march of the universe, no breathless moment of silence among created      things that the passage of another twelve months may be noted; and yet no man has quite the same thoughts this evening that come with the coming of darkness on other nights. Hamilton Wright Mabie (American Writer).
A Healthy, Happy, Prosperous 2014 to us all!
FitEngine provides insider information on fitness and workout classes in NYC.