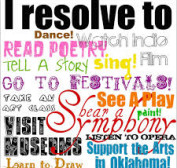 A New Year's resolution is something that goes in one year and out the other. (Unknown)
Hopefully, that will not happen in your case.
According to USA.gov, below are the most common New Year's Resolutions:
Drink Less Alcohol
Eat Healthy Food
Get a Better Education
Get a Better Job
Get Fit
Lose Weight
Manage Debt
Manage Stress
Quit Smoking
Reduce, Reuse, and Recycle
Save Money
Take a Trip
Volunteer to Help Others
Four of the best ways to actually keep those resolutions are:
– Be specific. Instead of saying lose weight- resolve to lose 30 pounds by 11-30-14 or I will have $10,000 in savings in the bank on or by 12-31-14. You are more likely to stick with them if the resolutions are specific.
–  Make them attainable. Decide on a something that is truly in your grasp to achieve as opposed to a goal that may be unrealistic for your situation.
–  Write them down. It's kind of interesting to write down the resolutions year after year and review them to see how you did. Even if you make some progress, it's good. For example, let's say you lose 15 pounds instead of 30—that's progress! And if you don't make it, there's always next year.
–   Review periodically. Set a calendar reminder to check where you are at in attaining the goals. It could spur you on to right your course.
Resolve Away!
FitEngine is the premier provider of fitness information and workout classes in NYC.
(Pic from collarcitybrownstone.com)
Tomorrow- actual resolutions and their results-