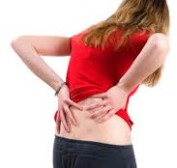 Lower back pain is a particularly unpleasant and painful condition, one that is by placing undue strain on the muscles that hold up the bones of the spinal column. Exercise can sometimes lead to lower back pain, particularly if you choose the wrong exercises or perform a workout incorrectly.
Fortunately, by understanding lower back pain at the muscular level, you can learn to avoid the kinds of workouts that will put you at risk.
The Muscle Groups: We rely on our muscles, attached to the backs of our spines, to help us stand and lift things. The paired erector spinae muscles are particularly important, and therefore particularly vulnerable to being damaged by the wrong kinds of exercise.
The muscles, on the other hand, are located at the front of the spine and include the abdominal muscles. Finally, the muscles stabilize the spin from both sides.
The Problem: When things go well, all of these muscles work together at need. The problem, however, is that sometimes the extensor muscles are forced to do too much. such as the straight-leg deadlift and the bent-over row can be excellent workouts if done correctly, but doing them improperly can lead to back pain. or crunches, on the other hand, are both ineffective and place one at risk of lower back pain.
Avoiding (and Treating) Lower Back Pain:
Although it is important to see a specialist if you have a serious problem, there are things you can do to minimize the risk of lower back pain. One of the most important is to strengthen your core muscles, particularly the . Stronger abdominals do not force the extensors to pick up the slack.
For working out your abdominals, skip the sit-ups and crunches. Instead, opt for exercises like planks, , and .
Overall, muscles that are in good condition will be less at risk of injury. In fact, to be physically active is a particularly important strategy for managing lower back pain, one that can promote recovery.