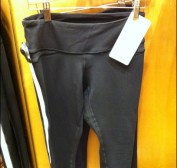 The retailer recalled their $98 Luon yoga pants in March after receiving numerous complaints about the material being too see-through. The Canadian founder blamed "user error" further explaining that the sheer pants were not for everyone—that usage and "some women's bodies just don't actually work for it." (He later apologized and begged customers for another chance.)
So, Lululemon is now selling a reinforced version of the pants called the Second Chance Pant, for $92. For this apparel, an extra layer of fabric has been sewn onto the back and strips of mesh have been added along the sides of the legs. This version is made from the pants that were recalled in March.
That recall impacted 17% of Lululemon's inventory, and is expected to cost the company as much as $67 million in revenue this year.
(Pic from yahoo finance)
Read a FitEngine review of a great NYC yoga class at http://www.fitengine.com/class/lunchbox-yoga-mangoh-yoga/.
FitEngine is your premier provider of inside information on the fitness industry and workout classes in NYC.