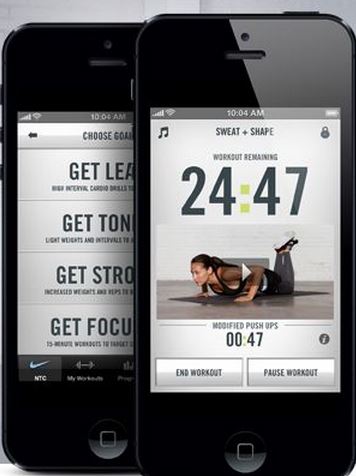 The latest version (2.8) of the Nike Training Club (NTC) App offers:
–  Over 100 workouts
–  Rewards and bonuses
–  Audio trainer guidance
–  The ability to share workouts
–  Approximate calorie and NikeFuel data for every workout
–  Bonus workouts from professional athletes Serena Williams, Lakey Peterson, Carmelita Jeter and Gabby Dougla
The NTC app wants to be a personal trainer for all of its users. You select gender, fitness level and fitness goals and get to work on one of the 100 plus workouts on the app. If you're uncertain, instructions and videos show you how to complete a move. The more you workout, the more bonus celebrity workouts become available for you to unlock.
The workouts can be strenuous so the app is not just for beginners.
You do have to register at the Nike Training Club to take advantage of this app which is free to download to your portable device.
FitEngine is your premier provider of inside information on the fitness industry and workout classes in NYC.
(Pic from Nike.com)