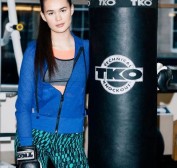 Tough getting to the gym this week? What, with the weather, time off from work and maybe a few workouts skipped, it's no wonder that revving yourself back up for a bout with the machines may not feel too appealing in this young New Year.
Here are some tips to ease you into going back to the salt mines:
–  Plan. Especially now, it's important to get back to your workout routine with some kind of objective in mind. Maybe it's to lose 10 pounds for that wedding you're going to in May or the high school reunion in April. Be realistic about it. For example, you may want to work out three times a week for an hour at a stretch and burn 200 or more calories each time for three months.
–  Cardio comes first. It's important to get the heart rate up. It will make future workouts less painful and more productive. So, hit the treadmill and the elliptical.
–  Try different things. Most gyms offer many types of classes from spinning to Yoga. Try different ones to stave off the boredom that can come with working out.
–  Focus on your legs. They contain the largest muscle groups and building muscle is the most efficient way to burn fat and improve your metabolism.
–  Multi-task. Try doing squats with a medicine ball to work both your arms and legs. Or stand on a Bosu ball to strengthen your core while doing bicep curls.
–  Lift. Lifting weights and doing a lot of reps with them will tone up an area without adding bulk.
–  Be kind to yourself. Stretch to help take care of your body and avoid going all out at once.
The last one is especially important. You will get there. Remember, there are 365 days in 2014!
FitEngine provides insider information on fitness and workout classes in NYC.
(Photo by Jens Ingvarsson on Yahoo Shine)