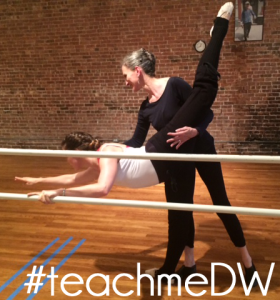 Click here to see the latest #teachmeDW updates!
ABOUT ALISA:
Alisa started dancing when she was 18, and quickly fell in love with ballet. Nearly 10 years later, Alisa is a budding bodybuilder who wants to improve her technique and to ultimately be able to dance en pointe, challenging traditional stereotypes that all ballerinas must be young and super thin. Alisa wants to "be able to pirouette with the best of them, and still be able to dead lift 250 lbs."
Dance Week's FREE dance classes are the perfect way for Alisa to try new classes, and to receive some training advice from the experts FitEngine as she works to achieve her goals. Follow Alisa this week as she samples Dance Week classes, and ask the FitEngine experts about how YOU can use Dance Week to achieve your goals as well. 
A note from Alisa:
"I started dancing ballet when I was 18 and fell in love. I didn't realize that it would become such an integral part of my life, but it became something I just needed to learn more about. My goal is to become as proficient in ballet and pointe as possible at a later age. (I'm 26) I want to essentially prove to myself that it is possible to learn a discipline that is generally reserved for the uber skinny 14 year old who has been dancing since she was 2. In all honesty there are times that I walk into a ballet class and am clearly the outcast, being I am built more like a sprinter, and less like a ballerina.
This is probably an appropriate place to mention that I have been Olympic lifting for a few years now and am training for an NPC fitness competition. Being active is nothing new to me.
That being said, I would like to challenge some stereotypes. I want to learn pointe at a later age. I want to learn more about the body so I can prevent injuries and stay as active as possible. I want to be able to pirouette with the best of them, and still be able to dead lift 250 lbs. I guess I'm looking to be a bodybuilding ballerina."
_________________________________________________________________________________________
ALISA'S DANCE WEEK CLASS SCHEDULE AND PERSONAL NOTES:
Body Conditioning
Instructor: Angelina Salama
Ballet Academy East
11:30am-12:30pm
Alisa's Notes:  Thank you so much, Angelina, for a wonderful body conditioning class at BAE. The class was very dancer–friendly and slow moving. It would be perfect for anyone who is interested in perfecting their alignment or nursing an injury. Angelina had us use blocks and different tools to help us engage muscles that are generally hard to target. She focused most of her energy on core exercises and was always mindful or everyone's technique. The energy of the class was a bit low, but it was early morning so that is totally understandable. Such a wonderful class!

_________________________________________________________________________________________
Beginner Ballet
Instructor: Kat Wildish
Studio: PMT Studios
6:00-7:30pm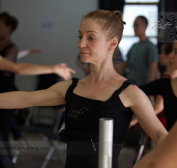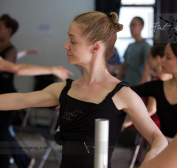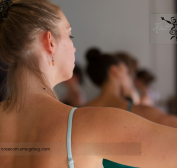 Alisa's Notes: This class was incredible! Kat Wildish is obviously very well known in the dance community and did not fail to deliver! We started with a basic barre routine for the first hour, which is perfect for a true beginner or even the most advanced dancer. Who can't use work on perfecting technique? What I really enjoyed about this class was the variety in levels of dancers. There were true beginners who have never had a dance class, and seasoned modern dancers taking advantage of a free ballet class. There was even a group of guys dancing for the first time who showed up in jeans and were not shunned by the other dancers! Kat conducted the class as if everyone was of equal talent and skill and taught it as if she were teaching the NYC ballet ensemble, which makes you feel like you belong. My only issue with this class is that it was incredibly crowded! Unfortunately I didn't have any room at the barre so I did the barre exercises center. Other than that it was amazing!
_________________________________________________________________________________________
Friday, June 20th
Candlelight Yoga – Level One
Instructor: Frank Muscara
Studio: Mang'Oh Yoga
7:00-8:15pm
Saturday, June 21st
Open Level Modern Dance
Studio: Limon Dance Company at Bryant Park
10:00-11:00am
Open Level Pointe
Instructor: Kat Wildish
Studio: Ailey Extension
6:15-7:15pm
Sunday, June 22nd
Zumba
Instructor: Amanda Johnson
Studio: Ballet Academy East
1:00-2:00pm
Monday, June 23rd
Slow-Intermediate Ballet
Instructor: Jamie Salmon
Studio: Peridance
10:30am-12:00pm
_________________________________________________________________________________________
Intro to Tower
Studio: Power Pilates
6:00-7:00pm
Alisa's Notes: I have never taken a Pilates class with "the contraption." I don't know what else to call it other than a contraption. I'll admit, I was very intimidated walking into this class, however, I was pleasantly surprised when the class began. The instructor was very clear with her directions and made using "the contraption" incredible easy and manageable. As the class began I became very comfortable with the exercises. We did basic core strengthening exercises along with simple leg and arm movements. This class is perfect for any beginner looking to get into fitness, as it was slow-moving and relaxing. This is a beautiful, well-maintained high-end boutique studio. I found the other students, all women, to be standoff-ish and even fairly rude.  
_________________________________________________________________________________________
Tuesday, June 24rd
Beginner Simonson Technique
Instructor: Chris Heller
Studio: Mark Morris Dance Center
6:00-7:30pm
Wednesday, June 25th
Body Conditioning
Instructor: Wendy Amos
Studio: Ballet Academy East
12:00-1:00pm
Beginner Ballet
Studio: NYC Dance Arts
7:00-8:00pm
Thursday, June 26th
Beginner Ballet
Studio: Ballet Academy East
7:00-8:00pm
Friday, June 27th
Candlelight Yoga – Level One
Instructor: Djuna Passman
Studio: Mang'Oh Yoga
7:00-8:15pm
Saturday, June 28th
Open Level Modern Dance
Studio: Limon Dance Company at Bryant Park
10:00-11:00am