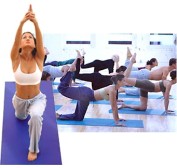 Invest a few dollars in a good, sticky Yoga mat. This may seem like a BGO (Blinding Glimpse of the Obvious) but never underestimate the security good footing provides when performing the varied body stretching, invigorating Yoga poses.
Most Yoga mats are made of PVC (which minimizes slippage and is affordable but can be tough to recycle). For the environmentally conscious- recycled rubber, jute, cotton or bamboo may be preferable.  The standard mat size is 1/8 inch thick and 68 inches long. (You can also get 1/16 inch mats for travel and 1/4 inch mats for extra support.)
FitEngine is your premier provider of inside information on the fitness industry and workout classes in NYC. Visit us soon to read workout reviews and to obtain assistance with your own fitness plans.
(Pic from yogiklifestyle.com)