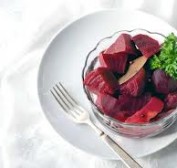 To feel good about yourself consider eating the following three foods on Thanksgiving. They are good for you (if eaten correctly).
– Beets: Beets are rich in nitrates which is helpful for those who workout because the food dilates blood vessels, helping the flow of blood and oxygen to the muscles.
– Cranberries: This super fruit is only 50 calories per cup. It's a filling, fiber rich side dish that will not fill you up.
– Broccoli and brussel sprouts: You can't say enough good things about these vegetables. They prevent oxidative stress, contain disease-fighting phytonutrients and are rich in essential vitamins like A, C and folic acid. Also, low in calories, the foods help fill you up not out.
The foods we discussed in our food series, turkey and sweet potatoes are also good for you. Now, if we could just stop ladling that gravy and melting that cheese!
FitEngine is New York's premier source of information about workout classes in NYC.
(Beets pic from simply gluten-free)