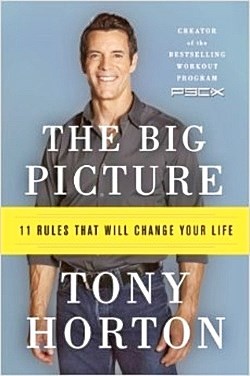 Tony Horton is a fitness pro who created a best-selling workout regimen called P90X. Many celebrities follow him including Michelle Obama, Bruce Springsteen and Pink.
His new book, The Big Picture: 11 Laws That Will Change Your Life describe his diet and workout secrets. He tries to schedule his workout sessions which he claims greatly increase the odds of them happening.
Here is a seven workout schedule:
– 6:00 pm on Monday night is Plyometrics.
– 7:30 am Tuesday morning is shoulders and arms.
– Wednesday night is two different cardio options.
– 7:30 am Thursday morning is chest and back.
– Friday afternoon is a routine called "Boxes and Balls," which focuses on core and plyo boxes.
– Saturday is yoga.
– Sunday is either a track workout or gymnastics.
He is not a strict vegan but eats what he calls "flexitarian meals" while staying away from shellfish, cow, fast foods and processed foods filled with sugar and other chemicals.
Tony believes that changing physically means a series of steps that motivate an individual to a committed lifestyle of health and wellness. The mental and emotional state needs to be changed before one can begin a fitness program and dietary shift.
Learn more at http://www.examiner.com/article/p90x-creator-tony-horton-reveals-diet-workout-and-success-secrets.
(Pic from examiner)
FitEngine is a premier provider of fitness and information on workouts in NYC.