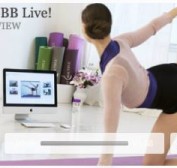 Because a lot of FitEngine disciples have dance experience, a recent article on shine.yahoo under healthy living caught our eye.
In building up to the December 10th Victoria's Secret Show, many of the models revealed that they swear by their Ballet Beautiful (BB) workouts. For one to two hours, six days a week, several of them do the "ballet inspired fitness for every woman" workout routine at Ballet Beautiful's Soho studio. The workout was created by Mary Helen Bowers, a veteran of the New York City Ballet.
The muscles used in BB workouts are similar to the ones used when doing classical ballet. Since those muscles do not get used very much, it burns. That's ok. In preparation for the show, the models are looking for stamina, strength and control to tap into during their time on the runway.
Everything is Centered
As with ballet, the workout is body centered. The abs bear the brunt of it because that's where the control comes from. It focuses on the butt, waist and overall center of the body as well as the inner and outer leg muscles.
Because it stretches and elongates the legs, it helps with cellulite. In fact, it elongates the whole body, which helps with how the models carry themselves.
Building Lean Muscle
The workout provides less focus on cardio and more on building up lean muscle which is how the metabolism speeds up. The toning aspect which really targets the muscles is gentle as far as workouts go. The idea is to help people get a lifestyle where exercise is a positively anticipated part of the day. As a targeted workout that can change the body, BB also improves the way you look and feel.
Learn more at www.balletbeautiful.com.
We will have more on targeted workouts in the weeks to come.
FitEngine is your premier provider of inside information on the fitness industry and workout classes in NYC
(Pic from Ballet Beautiful)