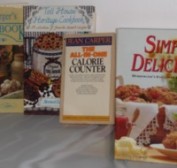 Here are three actual daily calorie entries:
Breakfast- Cereal 140, pear 100- 240
Lunch- Sweet & sour chicken- 6 ounces 390, ½ cup fried rice 115, 3 Tbsps sweet & sour sauce 45- 550
Dinner- Sweet & sour chicken 390, fried rice 230, sweet & sour sauce 30- 650
Total- 1440
Note the sweet and sour chicken. You can really anything if you watch the calories!
Another day:
Breakfast- Apple turnover- 250
Lunch- Pizza 200, chicken 240- 440
Dinner- Chili- 350
Snacks- 70 cereal, apple turnover 250- 320
Total calories so far: 1360
(Subtract 350 calories burned on one hour of brisk walking)
Total- 1010
Note the subtraction for the workout.
One more day:
Breakfast- 2 waffles 240, syrup 200- 440
Lunch- Chicken 240, beans 60- 300
Dinner- Sand- bread 130, ham 100, provolone 60, and soup 140-430
Snacks- Cereal 70, and more cereal 70- 140
Total- 1310
A couple of other points about calorie counting. Sweets, alcohol and salty snacks, unless you can control your intake, can be killers for calorie counting.
You will probably find yourself beginning to make healthier choices because that food usually contains less calories and is more filling.
Finally, as with all weight reducing programs, don't worry about messing up. Don't fret if you don't feel like trying it again. All of the times it doesn't work will get washed away when you get a weight reducing plan right!
(Pic from photobucket)
FitEngine provides an insider look at fitness and workouts in NYC.