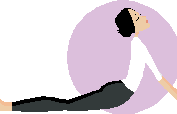 We practice yoga for a variety of reasons: to reduce stress, improve posture, alleviate health problems, and even weight loss. Yes, incorporating yoga into your exercise regime can aid in losing weight.
Some studies have shown that through yoga your body actually lowers the levels of your stress hormones and boosts insulin sensitivity. This means that during yoga a your body receives a signal to burn food as fuel rather than store it as fat.
Discover the power of yoga for weight loss
Yoga is an all-encompassing, powerful workout. It alleviates stress, enhances mental clarity and improves body posture. And it also leads to weight loss.
Whether you are in search of yoga exercises for beginners or for advanced yogis, practicing yoga regularly can help you shed extra pounds. There are many easy and effective yoga workouts that you can add to your daily life to lose weight. Choose the best yoga exercise for weight loss and renew your body and mind.
There are yoga poses for beginners and pilates exercises for beginners that focus on learning how to breathe to reduce stress. However, Yoga and Pilates instructors will not say they their style is the best exercise for weight loss. But doing Yoga and/or Pilates regularly will stimulate the body to achieve optimal function in the body.