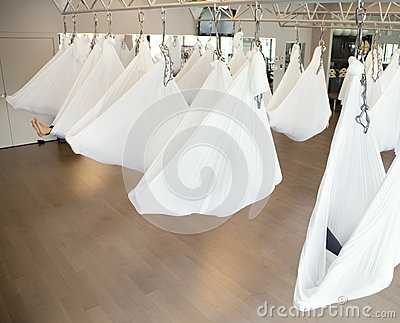 Yoga is the cessation of the movements of the mind. Then there is abiding in the Seer's own form.  Patanjali, The Yoga Sutras of Patanjali
At a small studio in New York, there is a trendy form of Yoga being practiced- it's called Anti-Gravity Aerial Yoga. Students perform standing poses, inversions, seated poses, meditations and balancing postures all in an aerial hammock that is suspended from hooks attached to the ceiling.
Originally developed for acrobats and gymnasts, this technique has been modified to attract a wider group of yoga enthusiasts. As a result, this way of practicing yoga is beginning to gain some followers.
Benefits: Anti-Gravity Aerial Yoga helps strengthen agility, flexibility, the upper-body and the core. It is also an excellent stress reliever.
How it Feels: It is a liberating workout as you're stretching and floating through the air on a silk hammock. The inversions clear the head and instill energy into your being. The freedom of movement generates a playfulness and a feeling of fun. The savasana in a cocoon is blissful.
Fitness Level: It's a relatively low intensity workout and no fitness level is required. However, for beginners it might be good to take the anti-gravity restorative class rather than the flying fitness one which is a bit more advanced with more complex inversions.
It's a good way to take your yoga practice up a notch.
FitEngine is your premier provider of inside information on the fitness industry and workout classes in NYC.